loof751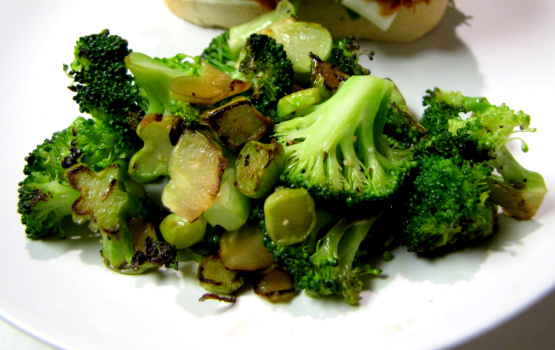 Pan-roasting broccoli results in a carmelized flavor, a completely different taste using broccoli, salt, and pepper. Adapted from Cook's Illustrated.

The technique is what makes this recipe. Follow the directions exactly and you will be amazed at the result (nutty flavor almost). It is fabulous. Adding water changes the integrity of the vegetable, and adding other seasonings will have you missing out on the subtle flavors that the salt and oil bring out. Go on, try it.
3

tablespoons water
1⁄4 teaspoon salt
1⁄8 teaspoon pepper (I used garlic pepper blend)

2

tablespoons vegetable oil
1 1⁄4 lbs broccoli, separated into small florets, and stems, sliced (about 5 cups florets and 3/4 cup stems in total)
Stir water, salt, and pepper together in small bowl, til salt dissolves.
In a large skillet, heat oil over medium high then add the broccoli stems in an even layer.
Don't stir for about two minutes until they get light browned.
Add the florets and toss to combine and don't stir for another two minutes, until they just begin to brown.
Add water spice mixture and cover pan with lid, cooking for two minutes.
Uncover and cook until desired doneness.
Note: I eyeballed my broccoli measurements and it worked fine. I did add a little water to mine.