Pan Roast Portabella Mushrooms With Dijon Vinaigrette & Asiago Cheese
Chippie1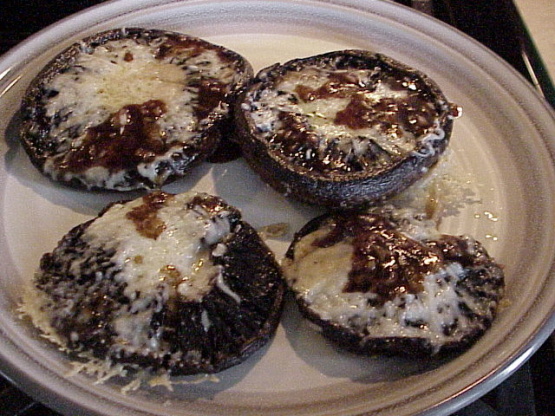 Top Review by Bergy
Love portobello mushrooms, love this recipe. I served these as a side dish with BBQ leg of lamb. Followed the recipe added a bit more garlic and instead of slicing the mushrooms I left them whole, put the asiago on them for the last minute in the oven and then drizzled them with the vinaigrette. No complaints from any one- another winner Thanks Dancer.
Preheat an oven to 375 degrees.
Carefully remove the stems from the mushrooms.
Inspect the mushrooms closely and, if needed, wash in cool water and pat dry.
Heat 2 tbsps.
of the olive oil in a heavy ovenproof skillet.
Add the mushrooms and sauté for 5 minutes turning the mushrooms once.
Place the skillet, with the mushrooms in it, in the preheated oven; roast the mushrooms for approximately 15 minutes.
While the mushrooms are roasting make the vinaigrette.
In a small bowl combine the remaining olive oil, dijon mustard, salt, pepper, garlic and shallot.
Whisk together and leave at room temperature until the mushrooms are cooked.
Remove the mushrooms from the oven and slice them into 1/4-1/2 inch slices.
Fan the mushrooms across two warm serving plates and drizzle with some, or all, of the vinaigrette.
Using an ordinary vegetable peeler, peel thin slices of the Asiago cheese and arrange across the mushrooms.