diner524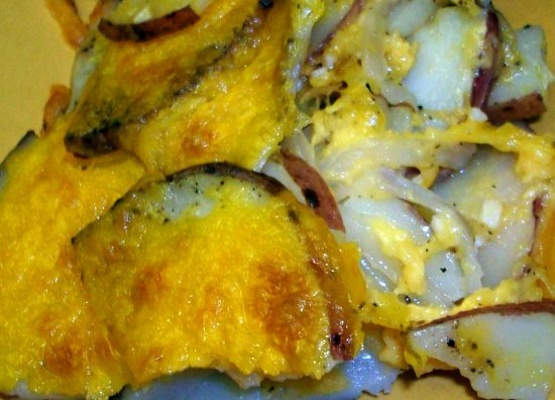 A classic British potato dish from Northumberland, originally made with lard. The original recipe had Lancashire cheese, "a creamy-white cheese with a crumbly texture and tangy taste" but Cheddar or Gruyere are acceptable alternatives. I've listed Cheddar in the ingredients. I've also added garlic and thyme. Adapted from a 'Pan or Wok' recipe card by International Masters Publishers.

This is a classic from my childhood, though we did not use garlic or herbs. To the person who found it burned: you need a good, heavy iron frying pan. But the dish should be very well browned on the bottom - that's the best bit! Also, when you cover it, you need to allow the steam to escape, otherwise it will be soggy. My mother has a 'coolie hat' mad of tin, which has a hole at the top. I use an anti-splatter guard, which is nearly as good.
Peel the potatoes, cut into very thin slices, rinse under cold water and then pat dry with paper kitchen towel.
Over a medium-low heat, heat the oil in a non-stick pan which has a lid and which will fit under the grill.
Add a third of the potatoes and spread in a single layer, then season to taste.
Add half the onions, half the garlic, half the thyme and spread evenly. Top with one third of the cheese. Then layer the remaining potatoes, onions, garlic and thyme, finishing with a layer of potatoes.
Cover the pan, cook over a medium heat for 30 minutes or until the base is golden brown, and the potatoes onion and garlic are tender.
Preheat the grill to medium, top the potatoes with the remaining cheese, place the pan under the grill and grill until the cheese melts and the topping is golden. Garnish with parsley and serve hot.
Serve as a heart main dish with a salad and steamed vegetables or as a side-dish with grilled chops or kebabs and a salad. If served as a side dish, it would probably serve 5-6.