diner524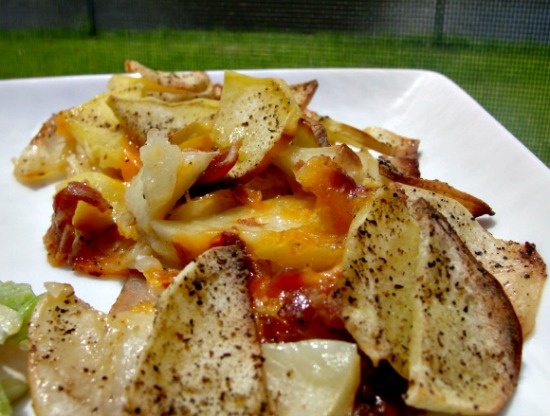 Pan Haggerty is a potato recipe from Northumberland.
What a tasty potato recipe!!! I made 1/2 of the recipe for my lunch along with recipe#483125. Since I made some bacon in order to get some bacon fat, I decided to crumble it and sprinkle it over the potatoes, yum!!! The only problem I had is that the bottom gets nicely browned and the potatoes are tender but the top was crisped around the edges, but kind of dried out and not tender. That would be easily fixed by adding a lid in the beginning, to cook all the potatoes through and then crisping up the top with the broiler. Thanks so much for sharing this tasty recipe. Made for ZWT8.
Melt the fat over low heat in a heavy frying pan and make sure that it covers the entire surface of the pan.
Fill the pan with alternate layers of potatoes, onions and cheese, beginning and ending with a layer of potatoes.
Season each layer with a little salt and pepper.
Fry gently for about 30 minutes, then broil for 5 to 10 minutes until the top is well browned.
Serve straight from the frying pan.