Pan Grilled Glazed Salmon With Pesto Potato Salad
Laka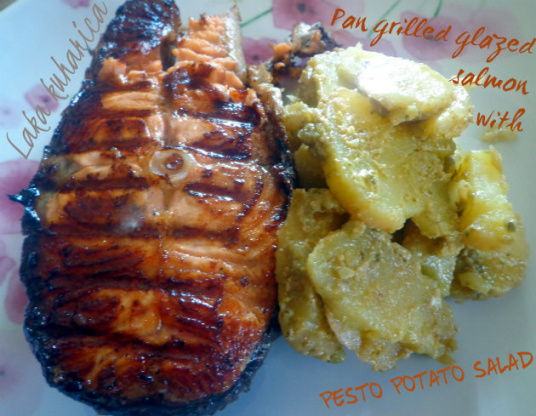 Recipe by Laka
This tangy, aromatic glaze adds a special punch to the tasty, healthy #salmon steaks.
In a shallow dish, mix together the chili and soy sauce, olive oil, red wine vinegar, garlic and ginger. Lay the pieces of salmon in the marinade (cover both sides with it), and set aside for at least 15 minutes.
Brush or spray the cast iron grill pan with some olive oil. Heat the pan for about 5 minutes or until very hot. (If the pan starts to slightly smoke, it's hot enough!).
Place the marinated steaks onto a hot grill pan and cook on medium high until grill marks are showing, about 5 -8 minutes on each side or until cooked through.
Serve with pesto potato salad.
For the pesto potato salad dressing mix pesto of your choice, olive oil and aceto balsamico in a salad bowl. Add potatoes and toss.