Pan Glazed Chicken with Basil
KateL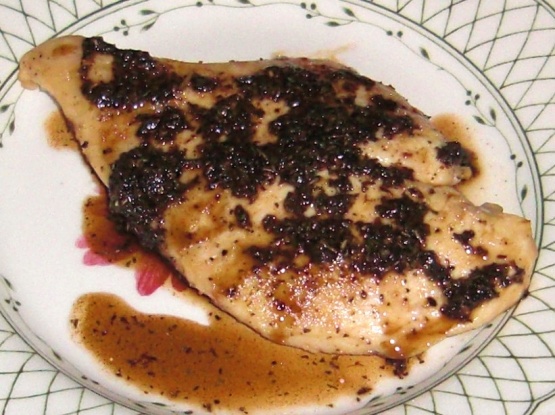 This originally came from Weight Watchers, but I changed it from frying to broiling with much better (and healthier) results.

Top Review by KateL
3 Stars, I would prefer to do this in the pan, the chicken was on the dry side without any marination or coating during broiling, and at the end I had the broiler pan and the saucepan to clean, instead of just one pan. If everything would have been done in the pan, there would have been some chicken essence to contribute to the sauce. Made out of curiosity from Jess4Freedom's review for "I Recommend" tag.
Preheat broiler and set rack six inches from heat.
Sprinkle both sides of chicken with salt and pepper.
Spray a broiler pan with cooking spray.
Add chicken; broil 5 minutes or until lightly browned.
Turn chicken over; broil an additional 6 minutes or until chicken is done through.
Meanwhile, in a small saucepan, stir together vinegar, honey and basil and heat through.
Remove chicken from broiler and place on serving plates, pour sauce over top.