Pan Fried Tilapia With Lime Basil Beurre Blanc on a Bed of Wilt
Rita1652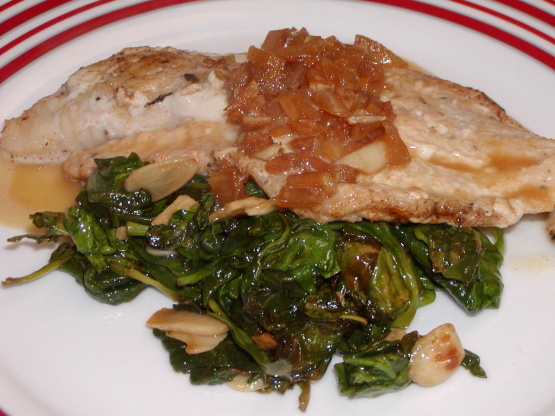 This is an excellent company entree and as good as any you will find in any first class restaurant. Why go out when you can eat this good at home, for half the price. Another entry in the RSC Winter 2005 contest.

This is an amazing recipe. It is easy to make, although a little time consuming, but totally worth it. I made it for my girlfriend for the first time and we both were in heaven. She asked if it was wrong to want to lick the plate clean. I said no because I was going to do that when she wasn't looking.
For the sauce; combine the lime juice, wine, garlic and shallots in a wide pan, bring to a boil and reduce to 1/4 the volume.
Pour into a bowl and stir in the cream.
Whisk in the butter, 1 TBS at a time, until thoroughly combined.
Stir in the fresh basil and hold the sauce in a warm place until ready to serve.
For the spinach, slice the garlic into thin slivers.
Heat a large saute pan over medium heat for 30 seconds.
Add the butter and, when half of it has melted, add the garlic.
Cook, stirring constantly, for about 45 seconds or until the garlic is tender and fragrant.
Add the spinach leaves, and season with salt and pepper.
Use tongs or a spatula to stir the spinach so it cooks evenly.
Remove from heat when all spinach leaves have wilted, setting aside to keep warm while you cook the fish.
Divide the fillets into 4 pieces.
Sprinkle lightly with the salt, sugar, pepper and paprika.
Place a large non-stick skillet over high heat.
When hot add the oil and butter.
When the butter begins to melt, swirl to coat the pan.
Place the fish in the pan and cook for 5 minutes; turning gently until fish flakes easily, do not over cook.
To serve, place the spinach in an attractive mound on a heated plate, top with the fish fillets and spoon sauce over.
Serve at once!