Pan Fried Steak with Sauce
Boomette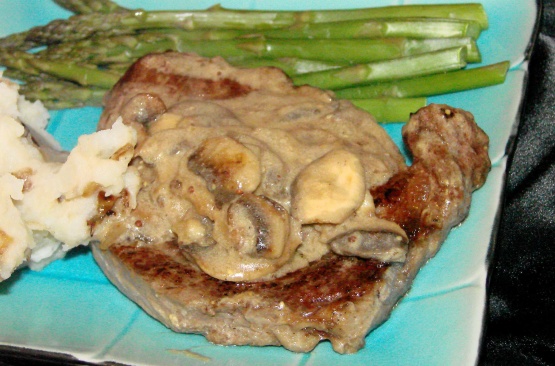 My family loves this steak dish. It Reminds us of roast beef and gravy. It is very easy to vary this dish. (add your favourite mushrooms and sherry or dry red wine, or try substituting boneless rib steak or beef tenderloin for the sirloin and enjoy)

Great taste! Loved the sauce. Couldn't find in the ingredients how much "remaining butter" to add, so I just matched the amount of flour. My sirloins were 2 inches thick and turned out medium-rare with this cooking time. Fine for me, but if you like your steaks a bit more "done" I'd increase the cooking time. I agree with the Chef....the initial searing time is important for the flavor! My favorite part! Loved the steaks and sauce! Thanks for sharing....made for FYC tag game.
Rub salt and pepper on both sides of steak.
In large pan melt butter and brown steak well on both sides.
(2-3 minutes per side-- do not cut down on browning time as this really contributes to the overall flavour of the dish) Remove steak and set aside.
Reduce heat to med-high add remaining butter, garlic, onion, mushrooms and thyme, (stir for 10 minutes) until mushrooms start to brown.
Add flour and cook for 1 minute.
Add in beef stock, milk and horseradish.
Reduce heat and simmer, stir for 5 minutes until sauce thickness.
Add steak and juice, simmer for 5 minutes.
Let steak rest for 5 minutes while you season the sauce with additional salt and pepper to taste.
Slice steak thinly across the grain, drizzle with sauce and sprinkle parsley on top.