Pan Fried Steak with Mustard-Pepper Sauce
Bergy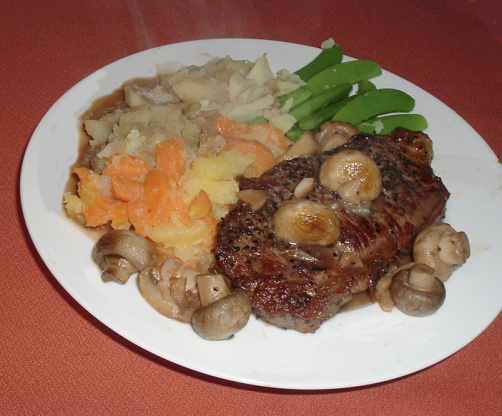 These steaks are quick, and good enough to serve company!

Very tasty, rich, and easy to make sauce. I made this with eye of round steaks, garlic mashed potatoes, and asparagus. I only made two steaks, but made more sauce than 2 steaks worth and had the rest as gravy over the potatoes. I agree - this is definitely something nice enough to serve for company. Next time I make it, though, I think I'll grill the steaks and cook the sauce by itself.
Sprinkle pepper on both sides of steaks and pat to rub in.
Place oil in medium skillet (non-stick is best) and heat over medium high heat until hot.
Add steaks, cook to desired doneness, turning once (about 6 to 12 minutes).
Add garlic, cook and stir 1 minute or until golden brown.
Add wine and broth, bring to a boil for 1 minute.
Remove steaks from skillet.
Whisk in mustard until sauce is well blended.
Serve sauce over steaks.