Pan-Fried Salmon With Warm Chilli ( Chili ) Lime Sauce)
I'mPat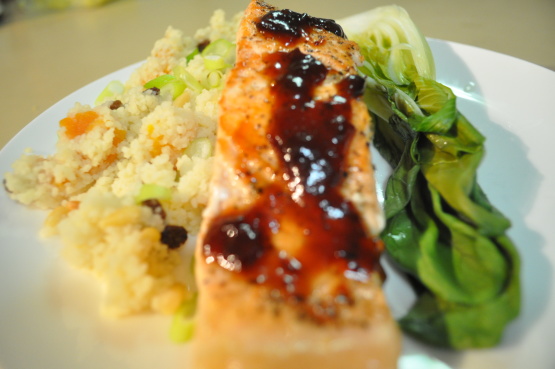 My friend cooked this for us for dinner while visiting her. It's delicious. Remember an Aussie tablespoon contains 4 teaspoons. ETA I made this tonight using a whole side of salmon. I sprayed foil with oil, and wrapped the spepper sprinkled fish in it like a parcel. I cooked it in a hot oven for 12 minutes, then rested it for a few more. I made the sauce in a small pan and tossed the potatoes in the two tablespoons of oil that the salmon was to have been cooked in. The fish was so moist and the dish was delicious.

Top Review by I'mPat
I got a product called Cranberry Sauce but it was really like a jelly and was perfect for this recipe giving it a sweet taste with just a kick from the chilli (even the DM devoured it and normally she would reject anything with chilli in it). Mine came out like a thick jelly mix and was delicious with the moist cooked salmon. I served mine with a side of Karen Elizabeth's recipe #353023 and some steamed baby bok choy. Thank you JustJanS. made for Make My Recipe - Edition 15.
Cook potatoes in salted water until just tender. Drain. Cool. Cut into thick slices.
Combine potato, onion, coriander, parsley, salt and pepper in a bowl. Set aside.
Pat salmon dry with kitchen paper, then rub half a teaspoon of pepper on both sides of each fillet.
Heat remaining oil in a large pan over medium high heat. Cook fish skin side down for 3 minutes or until skin is crisp. Turn and cook for 1 or 2 minutes more or until cooked to your liking. Take care not to over cook and dry out the fish!
Transfer the fish to a plate and cover loosly.
Reduce heat to low, add cranberry jelly, chilli, sugar and fish sauce to pand. Simmer for 2 minutes then add 2 tablespoons lime juice and simmer 1 minute more.
Place the salmon on plates, drizzle with the sauce and serve with potato salad over a few lettuce leaves.