KellyMae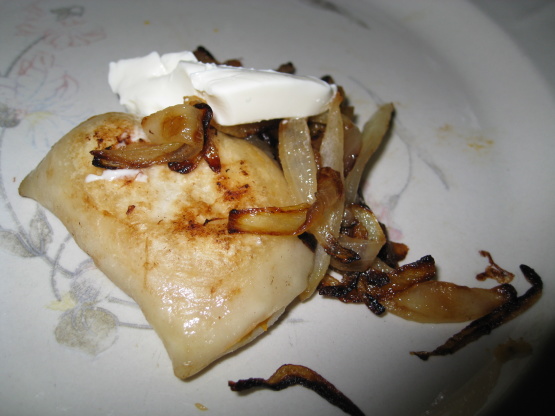 I use Costco's brand (Santarelli's) to make this recipe. The box has 96 oz. split into two bags. I use about half a bag (24 oz). Whatever brand you buy, just make sure the pierogies have a thick pasta shell. If they're too thin, they can tear during the pan-frying. Also, it's good to use a soft spatula (one that can withstand high heat) to turn the pierogies over.
24

ounces frozen pierogies stuffed with potato and white cheddar cheese (see note above for brand recommendation)

2

tablespoons butter

2

tablespoons olive oil
1⁄2 large onion, sliced thick
salt and pepper, to taste (or Paula Deen's House Seasonsing, recipe on Zaar)
Bring a large pot of water to a boil and add pierogies. Cook 4-5 minutes or until they float the top, drain.
In a large NON-STICK fry pan, melt the butter with the olive oil. Add onion and drained pierogies and season to taste with salt and pepper or House Seasoning.
Cook over high heat until the onion is soft and browned and pierogies are nicely browned. The pasta shell will get a little crunchy - it's delish!
Serve with a dollop of sour cream.