Pan-Fried Glazed Chicken With Basil - Ww
Boomette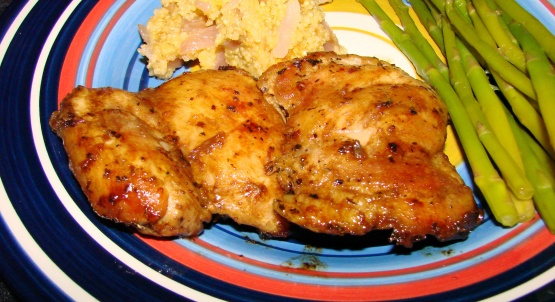 I was just about to post this recipe and one other came up as nearly the same, although that one is broiled and missing the olive oil. It is a very good dish and the sauce works well with rice. I should try it broiled too, but I don't know if the pan sauce would be as good without the catch from the chicken. The original WW recipe is this one, plus 2 tbs olive oil. This is WW POINTS: 4 Exchanges: 3 Very Lean Meat.
Sprinkle both sides of chicken with salt and pepper. Heat oil in a large nonstick skillet over medium-high heat.
Add chicken; cook 5 minutes or until lightly browned. Turn chicken, and cook 6 minutes or until chicken is done.
Stir in vinegar, honey, and basil; cook an additional 1 minute.