Pan-Fried Fresh Salmon Cakes
JBs Girl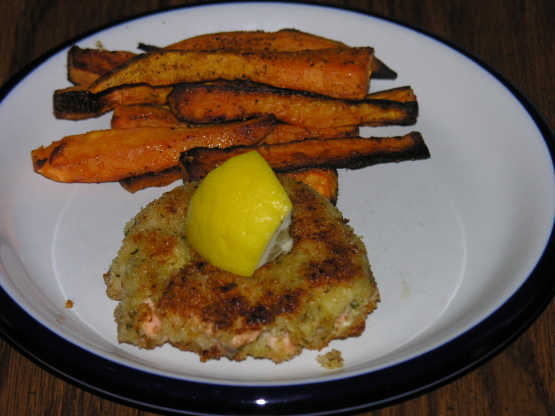 From Cook's Illustrated. Great salmon cakes using fresh salmon. Mix in 2 Tbsp of freshly grated parmesan, if desired. The panko coating keeps the salmon cakes crispy! Add a salad and soup to round out a great meal.

These were delicious! I used brown bread instead of white, and I don't think it made a difference. They were very very flavourful! I made a spicy dill sauce to go with them (1/4 pl. yogurt, 1/4 mayo, 1/4 tsp dill, 1/2 tsp horseradish, pepper to taste)
1. Locate and remove any pin bones from salmon flesh, (see related Quick Tip). Using sharp knife, cut flesh off skin, then discard skin. Chop salmon flesh into 1/4- to 1/3-inch pieces and mix with chopped bread, mayonnaise, onion, parsley, salt, and lemon juice in medium bowl. Scoop a generous 1/4-cup portion salmon mixture from bowl and use hands to form into a patty measuring roughly 2 1/2-inches in diameter and 3/4-inch thick; place on parchment-lined baking sheet and repeat with remaining salmon mixture until you have 8 patties. Place patties in freezer until surface moisture has evaporated, about 15 minutes.
2. Meanwhile, spread flour in pie plate or shallow baking dish. Beat eggs with 1 1/2 teaspoons vegetable oil and 1 1/2 teaspoons water in second pie plate or shallow baking dish, and spread bread crumbs in a third. Dip chilled salmon patties in flour to cover; shake off excess. Transfer to beaten egg and, using slotted spatula, turn to coat; let excess drip off. Transfer to bread crumbs; shake pan to coat patties completely. Return now-breaded patties to baking sheet.
3. Heat remaining 1/2 cup vegetable oil in large, heavy-bottomed skillet over medium-high heat until shimmering but not smoking, about 3 minutes; add salmon patties and cook until medium golden brown, about 2 minutes. Flip cakes over and continue cooking until medium golden brown on second side, about 2 minutes longer. Transfer cakes to plate lined with paper towels to absorb excess oil on surface, if desired, about 30 seconds, and then serve immediately, with one of the sauces that follow, if you like.