Outta Here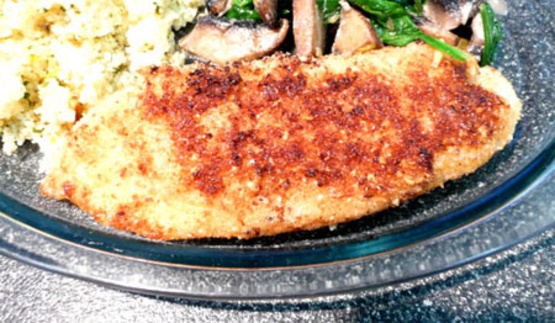 This is a simple and versatile recipe. It lends well to any type of white fish, such as: perch, tilapia, whitefish, halibut, etc. It might even work well with salmon, but I haven't tried that yet. I love the crusty, delicious almond coating. If you can't find Panko breadcrumbs, you could try regular bread crumbs. I like to serve this alongside wild rice and a nice salad for a simple and pretty healthy meal.

Loved this! I used cod, cut into strips and added 1/4 cup parmesan and about 1/8 tsp cayenne to the breading for a tiny kick. The results were flavorful and the breading light and crisp. I don't have a food processor so I just ground up the almonds in our coffee grinder (cleaned all traces of coffee away first!) and then mixed it together with my hands. I paired it with another recipe on here "Rigatoni With Lemon Parmesan Cream Recipe #95007". substituting rice noodles for the rigatoni and butter instead of olive oil. Thanks for the deliciousness!
First make the almondine breading by placing Panko breadcrumbs, lemon zest, and sliced almonds into a food processor.
Pulse until it reaches a fine consistency. *The breading adheres to the fish better this way.*.
If applicable, debone the fish and remove the skin.
Salt and pepper the fish, to taste.
In a small bowl, mix eggs and water together to make an egg wash.
Place flour in a shallow pan.
Place the almondine breading in another shallow pan.
Dredge each fish fillet through the flour, dusting off any excess, dip in egg wash; place in breading, coating both sides of fish. If you aren't going to fry these right away, store them in the refrigerator at this point.
Preheat saute pan using medium heat.
Add the butter and melt, being careful not to burn.
Place fish in hot butter and cook on each side until golden brown, about 3 minutes on each side, which is an average time. Depending on how thick your fish is, you may need to either shorten or lengthen the time.
Optional: Sprinkle chopped parsley on top of the fish before serving.