Pan De Muerto (Mexican Bread of the Dead)
pammyowl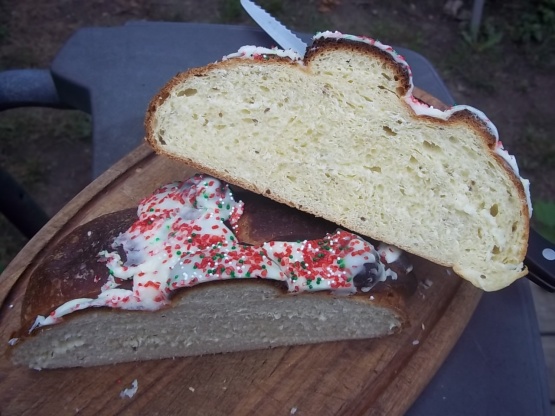 This recipe is from "The Rustic Table" by Constance Snow. This is my favorite Pan de Muerto recipe because of the nice orangey flavor.

Very nice! I had doubts about the huge amount of butter, so I cut back by 1/4 cup. It turned out perfectly fine, although it did get very dark. My fault, I should have covered it with tinfoil after 20 minutes. Thanks for posting!
Made for Remember the Alamo challenge WT8
For the Bread:.
Pour warm water into a 1 quart bowl and sprinkle yeast over water. Set aside in a warm place that is free of draft until bubbly, about 5 minutes.
Stir 1 cup of flour to make a sponge. Cover the bowl with plastic wrap and set aside until the sponge doubles in volume, about 1 hour.
Scrape the sponge into the bowl of an electric mixer. Beat in anise seeds, orange zest, butter, orange liqueur, sugar, salt, eggs and 2 cups of flour. Beat the batter on medium speed for about 5 minutes. Reduce the speed to low and add, one 1/4 cup at a time, the remaining 1 1/2 cups of flour until it forms a very soft dough that cleans the side of the bowl.
Knead with hook for 4 minutes (dough will be smooth and very soft, but it should not be sticky, if needed add more flour by the tablespoon to preventing sticking). Place the dough in a greased bowl, cover it with a cloth and set aside to rise in a warm place free of draft until doubled in volume, about 1 1/2 hour.
Grease 2 8-inches round cake pans. Gently deflate dough and divide in half, (dough will be very soft). Carefully transfer each half to a greased cake pan, turning the edges under to smooth the top as best you can. Cover the pans loosely with plastic wrap, then with damp cloths and let stand in a warm place until dough rises to the top of pan, about 1 1/2 to 2 hours.
Preheat oven to 350°F.
Bake bread until hollow when thumped, about 35 to 40 minutes. Immediately remove the loaves from pans and place them on a wire rack to cool completely.
For Glaze:.
Stir everything together until smooth, add more orange juice if necessary to reach spread consistency.
Spread glaze over cooled loaves and sprinkle with toppings.