Pampered Chef Perfectly Creamy Cheesecake
carylynn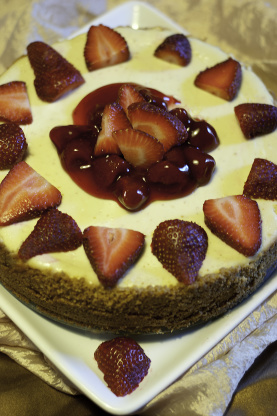 This is the cheesecake recipe included in my Springform Pan Set from Pampered Chef. I didn't see it posted yet, which surprised me...

I love this recipe. I have used it before when I purchased my spring form pan from Pampered Chef. I always hate making homemade cheescake because it is always so dry. This recipe is the creamiest one I have found. The sour cream gives it the perfect taste! I followed the recipe for the filling exacly with the exception of using organic ingredients and 50/50 flour. The 50/50 flour is a little grainy, so next time I will just use regular unbleached flour. I topped with fresh strawberries and strawberry glaze. For the crust, I opted for granola. The store was out of what I wanted,so I used 2 premade all natural granola crusts and combined them with the butter and sugar. So thick and crispy and buttery! Very yummy!
Preheat oven to 300 degrees.
For crust: combine graham crackers, melted butter and sugar until well blended. Press crumb mixture into bottom of Springform Pan. Bake 10 minutes. Remove from oven to cooling rack.
For filling: beat cream cheese, sugar and flour at medium speed of electric mixer until smooth. Add eggs, one at a time; mix at low speed just until blended. Stir in sour cream, lemon juice and vanilla. Pour filling into crust.
Bake 55-60 minutes or until center appears nearly set when gently shaken (the center will firm as it cools). Remove from oven to cooling rack. Immediately run releasing tool around sides of cake to loosen from pan; cool completely. Cover; refrigerate at least 4 hours or overnight. Release collar from pan. To serve, top with pie filling, if desired. Cut into wedges.