Pampered Chef Double Chocolate Mocha Trifle
J-Lynn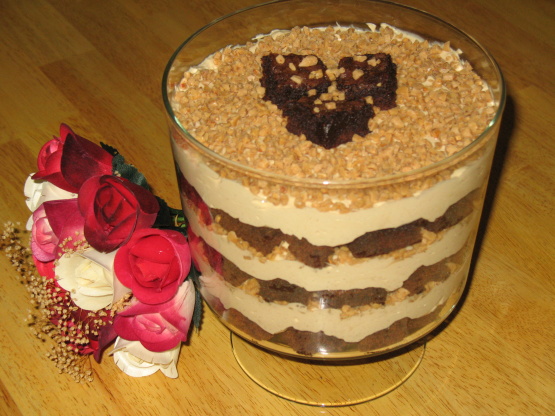 This is a modified Pampered Chef recipe. You can use a trifle bowl or large glass punch/salad bowl to show it off. It is really easy to make and I never have any leftovers. Cook time includes chill time.

Had this at my last PC party.. left out the coffee and substituted cream cheese pudding (couldn't find white chocolate!) It's wonderful!!
Prepare/Bake brownies according to cake-like directions.
Cool completely.
In separate bowl, whisk pudding mix with milk until it begins to thicken (or mix with mixer--i like to use my Kitchen Aid mixer).
Dissolve coffee granules with warm water, then add to pudding mixture, mixing well.
Fold in whipped topping.
Cut brownies into 1 inch cubes.
Layer 1/3 of brownie cubes into bowl, top with 1/3 of pudding mixture, pressing lightly, and 1/3 of chopped toffee.
Repeat layers 2 more times.
Chill 30 minutes before serving.