Paludah (Fresh Melon and Peach Compote)
COOKGIRl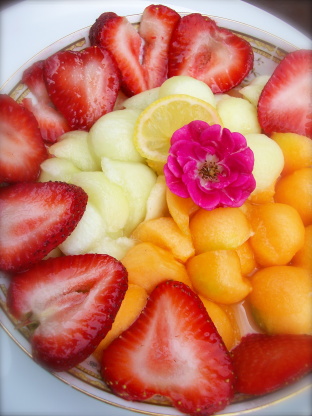 Adapted from Time/Life Foods of the World. Posted for ZWT6.

Salads, especially summer fruit salads don't have to be complicated to taste good. I added strawberries, cantaloupe and 'juan canary' melon for persian. Used up my last peach this morning unfortunately. Next time for sure! Lovely! Reviewed for ZWT Family Picks.
1

medium persian melon (or 2 small cantaloupes)
1⁄2 teaspoon salt

2

medium peaches, ripe but still firm, peeled, halved and sliced
1⁄2 cup sugar

3

tablespoons lemon juice

2

tablespoons rose water
ice (optional)
Cut melon in half and remove seeds and stringy pulp.
Using melon baller or small spoon, scoop out as many melon balls as possible.
Put melon balls in deep bowl.
Pour any juice from shells over melon balls, and discard shells.
Toss with salt.
Add peaches, sugar, lemon juice and rose water.
Toss gently to combine.
Cover tightly and refrigerate at least 2 hours, or until thoroughly chilled.
Serve in individual dishes.
Top with crushed or shaved ice if desired.