mianbao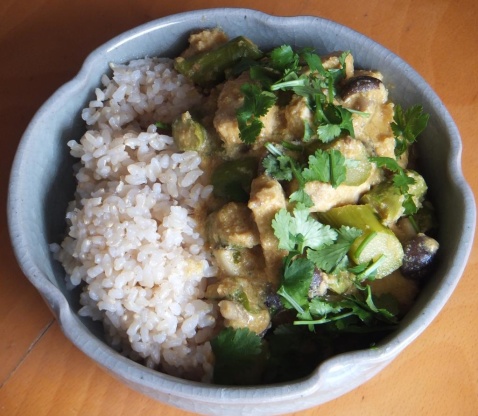 This recipe was submitted by Christina Lewis in this week's Thursday magazine. Looks very good! Preparation time includes marinating time.

This is an easy recipe, but the curry is quite mild, almost bland. Even taking another reviewer's advice and adding tomato, green chili and curry leaves, and doubling the amounts of garlic and ginger, it is still pretty mild. The flavor is nice, though, and I'm sure it will make a good dinner for me. I also added some vegetables - pre-cooked mushrooms and asparagus. Thank you for a recipe that I will use as the basis of many curry dishes in the future. I would like to add, that, other that what is noted here, I used the given amounts of ingredients for the sauce, but I used much less fish - only about 200 grams. On the other hand, the vegetables perhaps made up for the lack of volume. I did get two nice servings.
Heat oil in a pot.
Add onions and saute until brown.
Grind the onions.
Put the ground onions in a large mixing bowl.
Add yoghurt to the ground onions.
Add fish pieces to this, mix well and marinate the fish in this mixture for 2 hours.
In the same oil which was used to saute the onions, add the methi seeds.
Allow to sizzle a bit, then remove them once they turn brown.
Add ginger-garlic paste to the same oil.
Saute until the raw smell is gone.
Add red chilli and turmeric powders.
Mix well and continue to stir-fry for a few minutes.
Add the marinated fish pieces.
Add half a glass of water and mix well.
Keep on low flame for 10 minutes.
Garnish with corriander leaves.
Serve hot with chappatis.