JustJanS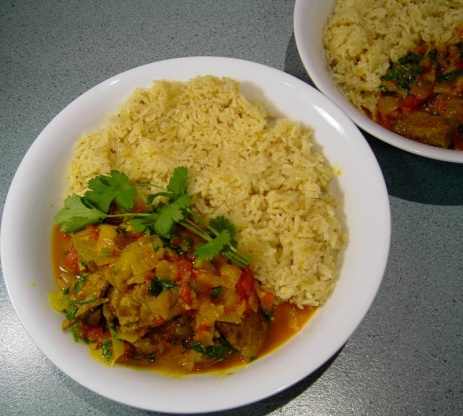 Classic Nepali Tender Lamb Curried in Tomato and Himalayan Herbs, Mountain Style. It is a simple dish that is hearty and satisfying. Perfect for mountain trekkers.

This was really delicious and very easy. I cooked the lamb for much longer - about 2 hours on a low heat- to ensure it was really tender.
In large bowl, season lamb pieces with salt and pepper.
In a non-stick pan, heat two tablespoons of oil.
Add seasoned lamb pieces and brown well; discard excess oil and reserve meat on a plate.
In a non-stick sauce pan, heat oil.
To the hot oil, add whole red chilies; fry for 30 sec.
Add turmeric and chopped onions, and fry until brown.
Put garlic and ginger into the onion mixture; fry for 30 sec.
To this mixture, add cumin, chili powder, grated nutmeg and chopped tomatoes; mix well for a few minutes.
Transfer browned lamb pieces into the spice mixture, add salt and pepper; stir well.
Add broth to the browned lamb; lower the heat to low and let simmer until lamb pieces are tender, and the sauce has attained a thick, saucy consistency, about 35-45 minute.
When cooked, turn off the heat and add chopped cilantro to garnish.
Serve hot with rice, and or roti (flat bread).