Rita1652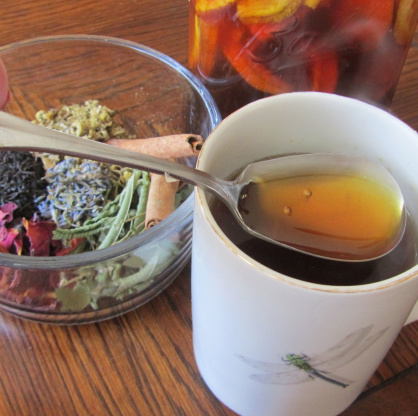 The name popped into my head and I thought of my friend Baby Kato. I loved it so much that I had to create a tea for it. My friend this is for you and everyone else who would like to enjoy it's comfort. All of the herbs used here are dried.
32

ounces pure water

2

tablespoons tea leaves (or to your taste, your favorite, I love Darjeeling)

2

tablespoons chamomile flowers (to sooth you)

1

tablespoon lemon verbena, leaf (for love)

2

teaspoons rose petals (to help with headaches)

1

teaspoon lavender flowers (for peace of mind)

2

cinnamon sticks (coming from my fire for your healing and personal protection)
honey (to taste, for your sweet heart)
Bring the purest water you can find almost to a boil (the point when bubbles start to rise from the botton of the pan, any more will reduce the oxygen in the water that helps bring out the benifits from the ingredients).
Add the remaining 6 ingredients and stir lightly.
Allow the tea to steep, covered, off of the heat untill it reaches your desired strength but at least 3 minutes.
Strain into tea pot, or strain and chill to be served over ice.
Stir in the honey to your taste (if drinking cold add the honey to the hot tea just off the heat so it will blend in).