Paella With Chicken, Zucchini and Rosemary
Satyne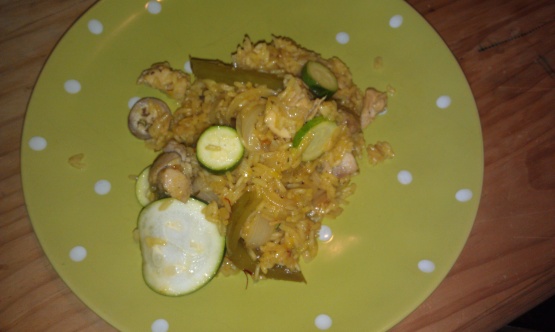 Traditional Spanish recipe for tender chicken breasts subtly seasoned with fresh rosemary. According to Spanish tradition, when you pass by a rosemary bush you should pull some sprigs from the fragrant shrub and carry them in your pocket to ensure good luck in the week to come! Perhaps this dish will bring you that same good fortune! Submitted for Zaar World Tour 5.

I loved all the flavors in this dish. I substituted dry white wine and dry mustard for the sherry and turmeric--other than that I followed the recipe as written. The rosemary and the zucchini really make this dish spectacular. I could hardly wait for the dish to finish to get done...the aroma while it was cooking was mouthwatering. Thanks for another great recipe, FolkDiva. Made for Summer, 2009 Photo Tag.
Heat 1/4 cup of the olive oil in a large pan. Add the chicken and cook until done and browned on all sides. Set aside.
Clean the pan and heat the remaining olive oil over medium heat. Add the onion and cook for five minutes.
Add the garlic and green pepper and cook for three minutes.
Add the sherry and cook for another one minute.
Pour in the rice and saute for five minutes.
Mix in the broth, saffron, turmeric, browned chicken and 1 1/2 tablespoons of the rosemary and cook for 15 minutes.
Sprinkle in the remaining rosemary and stir.
Arrange the zucchini over the rice, cover and cook for a further 10 minutes or until the rice and chicken are tender, and the broth has been absorbed.
Allow to cool for five minutes; serve and enjoy!