Satyne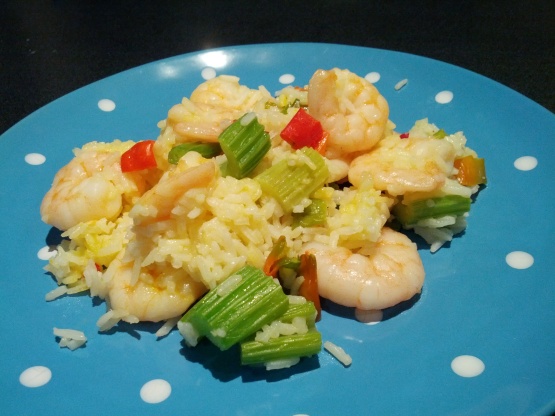 Posting for ZWT6 Scandinavia Region. This is from www.gretchencooks.com

Top Review by Satyne
Easy to follow directions, lovely subtle flavours and super yummy dinner. I had no chicken on hand so just used 500g frozen prawns. I put them in at the '10 minute' mark out of the 10-20 mins in oven stage and they came out beautifully. I also used pimiento peppers rather than your standard bell pepper and cut up enough of them to get a similar quantity. I could not find my frozen peas to use in this meal, so used frozen celery, placed in at the '20 minute' mark and left in for another 5 mins. Thank you Papa D, once again you have given me the makings of a superb dinner.
For the rice Pilaf:.
Mince onion and in a medium saucepan with a tightly fitting lid, melt butter or heat oil. Add onion and rice. Stir and saute until rice is golden brown. Pour in water and salt and bring to a boil. Cover and cook over low heat 20 minutes, until rice is tender.
For the Paella:.
Cut chicken into small bite-sized pieces, clean, rinse, and slice pepper into strips and slice olives.
Combine chicken, peppers, spices, and the prepared rice pilaf in a baking dish and place in a 350°F oven for about 10 -20 minutes.
When chicken is almost done, stir in shrimp and frozen peas.
Return to oven for 5 minutes. Paella is done when shrimp is pink and peas are heated through.