Paella for Impatient People, 1-Pan Italian Chicken-Sausage-Orzo
Prep 15 mins
Cook 20 mins

Vintage recipe, much more than the sum of its parts! Very simple and easy. Use a heavy pot. (I use a large white-enamel iron casserole.) Scrape the pot bottom often so the orzo doesn't stick. Hot sausage is also good, if you are inclined that way. You can use 2 boneless chicken breast halves or an equivalent amount of tenders or thighs. Substitute as you wish; ingredients are not carved in stone! Looks impressive; makes a ton; leftovers taste great.
Directions
Remove sausage from casing and break into small pieces.
Brown chicken and sausage. Remove with slotted spoon.
In drippings, cook onion, red pepper and zucchini, stirring occasionally until somewhat tender. Not too much because it will continue to cook later.
Add stewed tomatoes and liquid, the 2 cups water, orzo, 1/2 tsp salt, oregano, paprika and meats.
Heat to boiling over high heat.
Reduce heat to low and simmer, covered, stirring occasionally until orzo is tender and liquid is absorbed, about 20 minutes. It may not take that long, as it comes together quickly. Just test that the orzo is done.
Watch out, the orzo wants to stick. You may need a flame-tamer under the pot.
Reviews
Most Helpful
I LOVED this recipe!!!! Since I like my vegetables aldente, I sauted the zucchini, red pepper, onion and garlic in olive oil separately for a couple minutes and added them in just before I served. It was delicious!!!!
My husband said, "I really, really, really like this".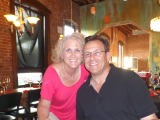 This does make a LOT of food... I added WAY more spice as it seemed thin. I used a lot of garlic (minced and podwer), italian seasoning and oregano. Also threw in some hot sauce. My bf and I both agreed that this would taste amazing with chicken alone so next time we're doing chicken and peas. Nice and easy dinner- thanks Jezski!