Paella, Ala Electric Skillet
Sageca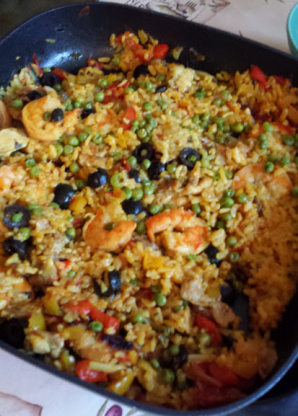 This recipe is a conglomeration of close to a dozen different recipes found here and elsewhere, modified to suit our spicy/garlickly palates, and adapted for the use of a large electric skillet. The whole process is much easier than it sounds, especially if you do all your chopping/slicing/dicing prior to final assembly. The electric skillet makes the actual cooking a "no-brainer". Thanks for all the great ideas - we absolutely love this dish!

This is an outstanding (and spicy hot) paella recipe which is very easy to make and one I'll make again - but be prepared if you follow the recipe, it makes a TON! <br/><br/>A standard 3-qt. electric skillet will work only if you cut the recipe in half. Use a 5-qt skillet to make the recipe as shown.<br/><br/>Since I don't have a large electric skillet, I used a 5-qt saute pan (straight sides) and prepared the recipe stove-top, I only wish I'd taken a photo of my finished product because the presentation is absolutely beautiful. <br/><br/>If you dislike spicy dishes, use sweet Italian sausage and eliminate the jalapenos. It'll still be fantastic. <br/><br/>I made a few small alterations: I sprinkled the chicken with 1 tsp salt during sauteeing and added a about 2 tsp. salt to the hot wine broth. I also placed canned smoked oysters on top of the paella before covering to simmer. Yum!<br/><br/>Re timing: It took me 2 hours start to finish by having a helper slice and dice the vegetables while I prepared the broth, cooked the Italian sausage and browned the chicken (note: use bulk sausage, it's faster than removing sausage from casings).
2

(14 ounce) cans chicken broth
3⁄4 cup white wine
1⁄4 cup vermouth

1

teaspoon turmeric

2

teaspoons paprika

1

lb boneless skinless chicken thighs, cut into strips
1⁄2 lb Italian sausage, we prefer the hot type (2 links)

1

tablespoon olive oil

1

large green bell pepper, cut into thin slices

1

large red bell pepper, cut into thin slices

1

large white onion, halved and sliced thin

2

jalapeno peppers, seeded and chopped

5

cloves garlic, minced

1

teaspoon thyme

1

teaspoon oregano
1⁄2 teaspoon ground coriander

2

cups rice (short grain works best)

1

lb medium shrimp, raw,shells and tails removed

4

roma tomatoes, chopped
1 1⁄2 cups fresh green beans or 1 1⁄2 cups frozen green beans, sliced into ½ inch pieces
1⁄2 cup black olives, sliced
Add broth, wine, vermouth, turmeric, and paprika to a saucepan and bring to simmer, stirring occasionally.
Squeeze sausage out of casings, break into dime-sized pieces, and brown in a large electric skillet – remove.
Brown chicken strips – remove.
Add olive oil and sauté onions, peppers, and garlic until limp.
Don't overcook as the garlic will bitter.
Stir spices into hot wine mixture.
Return browned meat to skillet and pour in hot wine mixture – stir to blend.
Bring to a low boil for 2-3 minutes than add the rice – stir gently to spread out the rice.
Spread the shrimp, tomatoes, beans, and olives on top – use spatula to"tuck" the shrimp into the mixture – DO NOT STIR THE MIXTURE.
Boil for 4-5 minutes, then cover (with lid vent closed).
Turn heat down to 225-250 and simmer 20 minutes – DO NOT LIFT COVER OR STIR.
Turn heat OFF and rest for 10 minutes – DO NOT LIFT COVER OR STIR.
Ok, now you can peek- ENJOY!