Pad Thai (Thai Stir-Fried Noodles)
Juna L.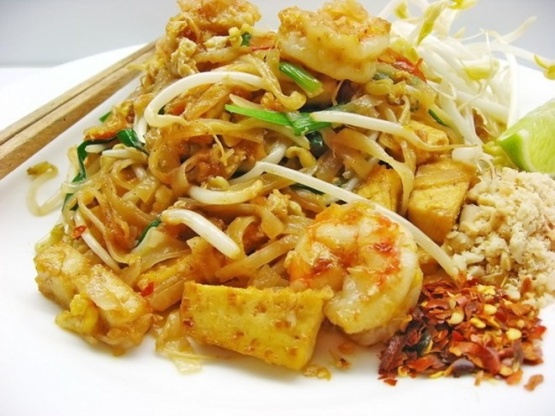 A native Thai woman made this for a Thai cooking class. This is how she learned to make it from her mother. We tasted the dish and it was great. We did not have Pad Thai sauce with it but she said the store bought type was fine. Vegetables or tofu may be substituted for the chicken. She noted that overcooked noodles do not stir-fry well and do not look good. If using fresh noodles, instead of dried, they will cook in less than 1 minute.

this pad thai was great! I recomend doubling the sauce (fish sauce, vin, black pepper, brown sugar., ect?) I also add red pepper flakes for heat. I didnt boil the rice noodles. What I did do is get the pot of water boiling then turned the heat down to mid low while adding the pasta. Then I stired it a few times and 10-14mins later they were done in time to be added to dish. oh and before i forget. add just a lil less vinager than it calls for. Thanks again for the recipe!
Boil noodles until just soft (do not overcook).
Drain water and place noodles in separate bowl.
Meanwhile, heat 3 Tbsp oil in wok on high heat.
Add garlic, shallots, oyster sauce, chicken and stir-fry until cooked.
Move mixture to 1/2 of wok and add eggs on empty 1/2 of wok.
Cook eggs.
Mix eggs and chicken.
Add noodles, fish sauce, vinegar, soy sauce, black pepper and brown sugar, stirring quickly so that noodles do not stick together.
Stir in bean sprouts, green onion and peanuts.
Garnish with fresh cilantro and a quick squeeze of lime juice.
Serve immediately, with Pad Thai sauce, as desired.