Pad Thai - Lower Fat Version
J-Lynn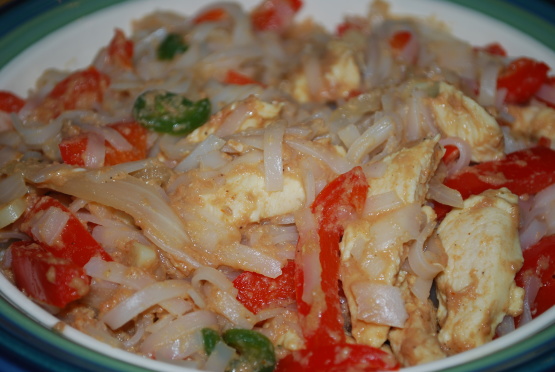 I got this from Chatelaine, a Canadian magazine. This is a lower fat version, but not low on taste! This is really yummy and the fat content is cut by omitting oil, adding lots of vegetables and cutting out fat laden peanuts.

Good recipe! I made as is except I left out the mint and used very little bean sprouts (they weren't good ones) and used the Oyster sauce because I couldn't find fish sauce. Very tasty and the family enjoyed. For some reason my rice noodles broke up into little pieces has I was tossing the noodles into the dish - not sure why but it didn't change the good taste. I liked that the red peppers still had some crunch. Our leftovers were just fine. Thanks for sharing!
Place noodles in a large bowl.
Cover completely with boiling water, soak, stirring occasionally, until noodles are just tender, about 15 minutes.
Drain well and set aside.
Whisk egg in a small bowl, then stir in sugar, fish or oyster sauce, ketchup, Worcestershire, chili-garlic sauce and chili flakes.
Set aside.
Boil broth over high heat, uncovered and stirring occasionally, until liquid is reduced by half, about 6 minutes.
Pour reduced chicken broth into a large, non-stick skillet, add garlic, chicken and shrimp.
Stir frequently until shrimp start to turn pink and chicken starts to turn white.
Stir in egg mixture, then add drained noodles.
Stir to evenly coat.
If noodles begin to stick, reduce heat to medium.
Add green onions, peppers, coriander, mint and bean sprouts.
Continue stirring until noodles are heated through, from 1 to 2 minutes.
Add chopped peanuts if you want, but they will increase fat content for this lowfat recipe.
Spoon into bowls and serve with lime.
Note: You can substitute frozen pre-cooked shrimp for the fresh.