Packs-A-Punch Raspberry Almond Smoothie
ladypit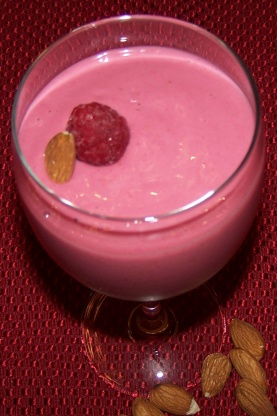 With raspberries and almonds, this is packed with fiber! From the California Almond Board.

Very easy and very tasty smoothie. I made this for my cancer-patient fiance, who is unable to eat much in the way of solid foods now. Becuase he needs to increase his protein intake, I omitted the almond extract and instead used about 1/4 cup of raw slivered almonds. I also used slightly less than the stated amount of raspberries, simply because that's what I had on hand, and used the lesser amount of honey. The result? A tasty, nutritious smoothie that he ~really~ enjoyed. Can't get much easier or better than this! Thanks Sharon! :smile:
473.18

ml almond milk (I have posted recipe seperately)

340.19

g package frozen raspberries

2

medium bananas, cut into chunks

29.58-44.37

ml honey

2.46

ml almond extract

12

fresh raspberries (optional)

8

whole blanched almonds (optional)
Combine the almond milk, frozen raspberries, bananas, honey and almond extract in a blender; whirl until smooth.
Pour into 4 tall glasses and garnish with fresh raspberries and whole almonds, if desired.