Packer Backer Split Pea Soup
Ackman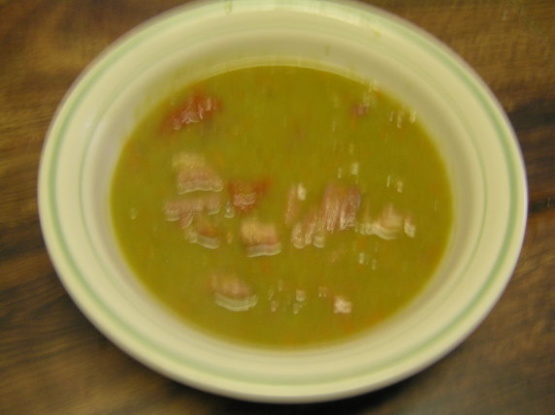 Being a GB Packers fan, I just HAD to make my pea soup like this!!! Remember that nice meaty ham bone you have leftover from Christmas...or perhaps the one in the freezer from Easter??? Use it in this recipe. you could also add a couple chopped tomatoes. Like any soup or chili, this is best when made a day or 2 ahead of time & reheated to really enjoy the flavors!
1⁄2 lb split peas, green
1⁄2 lb split peas, yellow

1

medium onion, chopped

2 -3

garlic cloves, chopped fine

1

bay leaf

1

tablespoon oregano

2

tablespoons chicken bouillon, base

1

tablespoon original pleasoning seasoning (sub 1/2 Tablespoon celery salt, if not available)

3

quarts cold water

2

large carrots, grated fine

1

large celery, chopped fine

2

tomatoes, chopped (optional)

2

medium potatoes, peeled & shredded (optional)
Place everything EXCEPT the grated carrots & chopped celery (& the potatoes & tomatoes, if using) in a large dutch oven & stir well.
Bring to a boil over med.-high heat.
Reduce heat heat & simmer covered for 3 hours, stirring occasionally, being careful not to scorch/burn.
Remove ham bone & any large pieces of meat -- set aside until cool enough to handle.
Remove meat from bone & coarsely chop, if needed.
Return meat to stock & add the carrots & celery -- (& potatoes & tomatoes).
Simmer for 2-2½ hours covered, stirring occasionally, being careful not to scorch/burn.