Pacific Rim Chicken With Wild West Sauce
Heydarl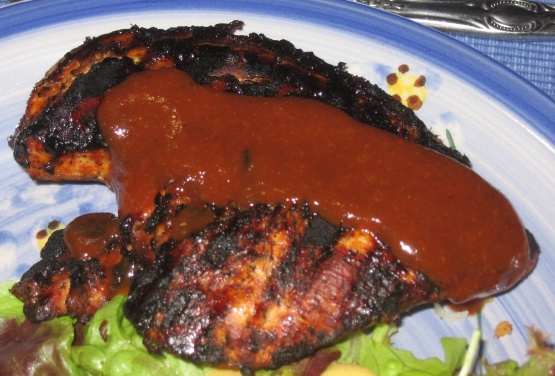 A super tangy barbecue sauce that works just as great for chicken as it does ribs. I serve this chicken dish with potato salad or mashed potatoes, a green salad and corn bread.

Wow, this recipe was awesome - there aren't enough stars to do it justice. I accidentally added double the amount of cayenne, but everyone thought it was the right amount of spice. I made this last Saturday night as part of an Iron Chef-style mango challenge dinner party. Since then I have followed the same recipe for steak and pork chops, which were also stunningly tasty. Thanks greysangel for sharing this winner.
In a 1 gallon plastic food bag mix all of the above ingredients with the chicken. Seal bag and turn to coat meat. Chill at least 30 minutes or up to 2 hours turning bag occasionally.
Prepare BBQ. When medium hot lay chicken breasts on grill. Cook turning occasionally until cooked thoroughly. Baste chicken often with marinade during the 1st 5 minutes of cooking and then DISCARD the remaining marinade.
Spoon Wild West Sauce equally onto plate. Set a chicken breast in sauce serve with rice and vegetables.
For Sauce:.
In a 2-3 quart sauce pan combine the mango and the remaining ingredients. Bing to a boil of medium-high heat. Reduce heat and simmer, stirring occasionally until reduced to 2 cups, about 25 minutes.
Pour mixture into a blender and whirl until smooth. Serve warm If making up to 2 days ahead, let cool, then chill airtight; reheat until steaming. (can be made up to 2 days ahead).