Pacific Rim Chicken Burgers With Ginger Mayonnaise
Bergy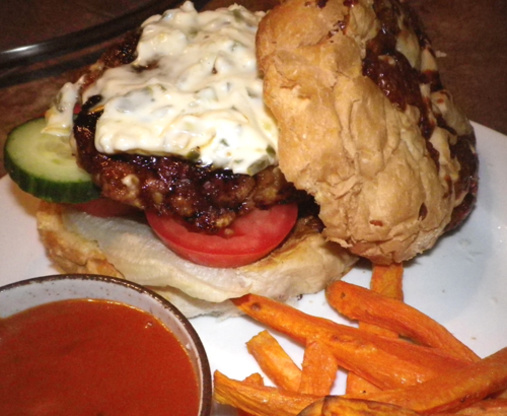 This recipe came from Kristine Snyder, Kihei, Hawaii, and was the $25,000 grand prize winner in the National Chicken Cooking Contest.

These are INSANE delicious. It is no wonder the recipe won in a contest. I haven't stopped thinking about making them again since I made them the first time!! I HAD to use turkey, I live in the sticks and couldn't find ground chicken anywhere. I have since drove 2 hours away JUST so I could buy the ground chicken for next time. The recipe was still to-die-for with the turkey though :) And the ginger mayonnaise just puts it over the top. Yummmmo!!! UPDATE: I made it again with chicken and decided that I actually like it better with the turkey :)
MIX chicken, panko, egg, onions, cilantro, garlic, chili sauce and salt in a large bowl.
With oiled hands, form into 4 patties.
Mix together teriyaki glaze and honey in a small bowl.
In large nonstick fry pan over medium high heat, place 1 tablespoon oil.
Add chicken and cook, turning and brushing with teriyaki glaze, about 10 minutes or until done.
PLACE burgers on toasted buns and top with lettuce, cucumber and Ginger Mayonnaise (recipe follows).
Garnish with additional cilantro and cucumber slices.
Ginger Mayonnaise: MIX 1/2 cup mayonnaise, 2 teaspoons sweet pickle relish, 2 teaspoons minced fresh ginger, 2 teaspoons lime juice, 1 clove garlic, minced and 1/4 teaspoon salt in a small bowl.