Pacific Razor Clam Chowder
teresas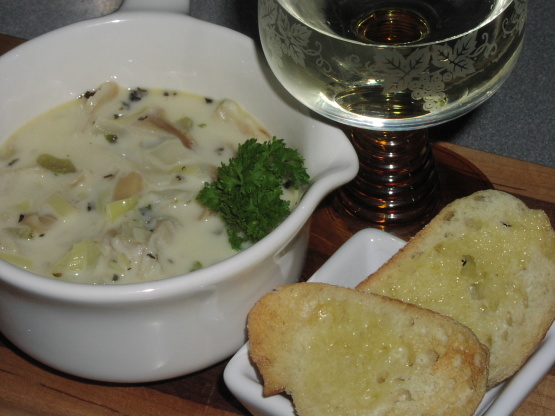 This is out of my KCTS Chefs 2003 cookbook...Chef Ludger Szmania with Szmania's Magnolia restaurant in Seattle includes this recipe in his popular personal cooking classes he holds at his restaurant. Prep time doesn't include cleaning the clams.

Top Review by sawcon
Overall a good clam chowder, I would ease up on the wine a little bit and depending on the size of you razor clams ease up on the too. I added the clams the last 7 minutes being afraid of over cooking but not needed. The leeks were a nice touch and the razor clams were surprisingly tender.The razor clams were too easy to clean, I had my 8 year son clean them for me. Would I cook this again? Yes.
On high heat in a 2-quart pot, melt the butter.
Add the onion and garlic and saute' until lightly browned.
Add the celery, potatoes, chicken stock and white wine.
Cook until potatoes are done, then add leeks and cream.
Continue to add herbs, parsley, salt and pepper to taste.
Let simmer for about 2 to 3 minutes, then add the razor clam meat.
Simmer for 15 more minutes and serve.
Serve with crusty French bread and more white wine!