Pacific Pesto Grilled Halibut
BecR2400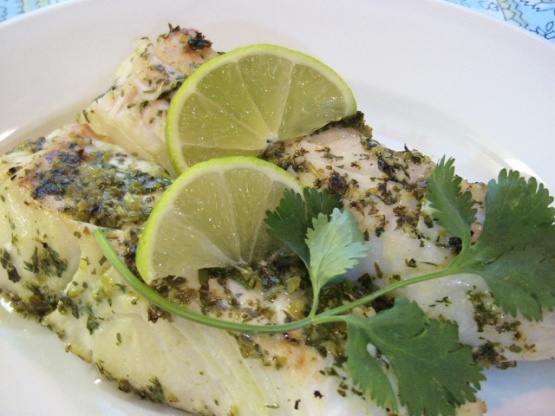 This recipe was in a Doubleday Book Club email I got back in 2003. The "Pacific" pesto is made with cilantro, jalapeno, lime and soy.

Fantastic recipe! Halved the recipe for just the two of us. DH grilled the halibut steaks on the gas grill vs. using the oven. Served with nuked baked potatoes and steamed broccoli. Thank you for a very enjoyable meal, Chilicat! Made for the July '08 Grilling photo event.
Preheat broiler. In a food processor or blender, combine the cilantro, garlic, lime zest and juice, jalapeño, and soy sauce. Blend until mixed. With processor or blender running, gradually pour in the oil and process until thickened.
Place the fish steaks on a greased broiler pan. Brush top of each steak with the sauce. Coat the potatoes with remaining sauce; place in broiler pan with the fish.
Broil about 10 minutes, or until fish flakes with a fork.