Pacific Northwest Mushroom & Wild Rice Pilaf
Pneuma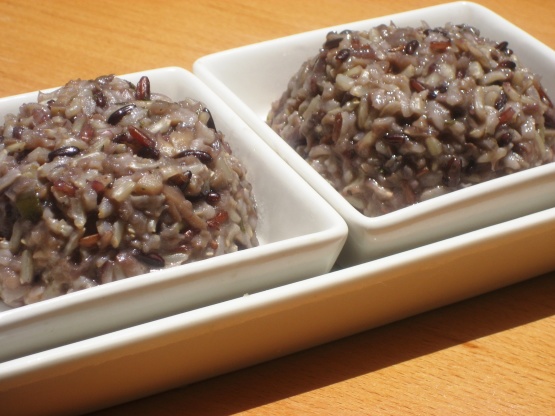 This dish dresses up a dinner party plate. Goes nicely with Pacific Northwest Poached Salmon in White Wine Bouillon. This recipe is from Taste Magazine which is put out by various Liquor Distributors.

Top Review by Kim127
I'm sorry, but I had a few problems with this recipe. The wild rice just never cooked up. I don't know if my baking dish was too big or if I just needed more liquid. The brown rice was fine and I used a combination of mushrooms (baby bella, crimini, white button, and shiitake). I wish this worked because the flavor is really great. We added water to some and microwaved it until the wild rice softened up a little and that was good. I would make this again, maybe cook the wild rice first or add more liquid. I used a 2 quart casserole (wasn't sure what size to use) and maybe that was just too big. Made for the Babes of ZWT4.
Preheat oven to 375°F.
In a skillet, heat oil over medium-high heat. Add mushrooms and onion and saute until soft, about five minutes.
Place in a large baking dish that has a tight-fitting lid (or cover tightly with double layer of foil).
Rinse wild rice under cold running water for 1 minute. Add to baking dish along with brown rice.
In a small saucepan, bring stock and butter to a boil. Stir in salt. Immediately pour over rice in baking dish and seal tightly with or foil.
Bake one hour or until tender. Remove from oven. Uncover and fluff with fork.
Cover dish with a clean kitchen towel and let stand for five minutes. Uncover and let stand for five minutes more. Stir in basil.
Press pilaf into lightly oiled moulds or custard cups. Invert onto dinner plates.