Parsley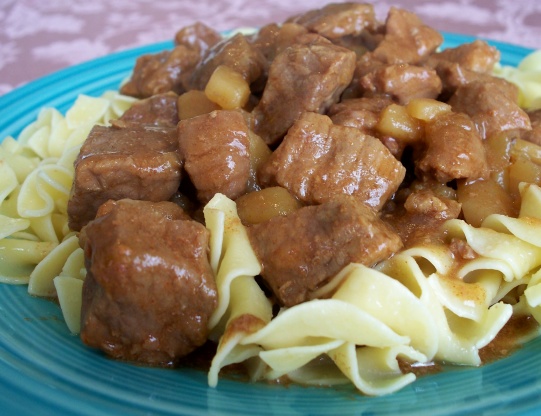 I'm posting this recipe for the World Tour 2005. This is a traditional Hungarian recipe also known as goulash.

Top Review by peter
I don't know what Chef #867630 is talking about, as porkolt is most definitely made with beef (called marhaporkolt), as well as pork, chicken, etc. Any local restaurant in Budapest will have marhaporkolt on their menu. Anyhow, as to the recipe, my main qualm is that the cumin should be caraway seed. The names are similar in Hungarian (caraway is komeny; cumin is romai komeny) so there is sometimes confusion on the translation. The cumin will give it a Tex-Mex flavor which, if authenticity is your goal, does not belong in this dish, as cumin is pretty much unknown in dishes originating from that part of the world.
Season meat with pepper and salt.
Heat the oil in a large pan and glaze the onions, add the beef and brown.
Add the spices, potato and tomato puree. Cook for 5 minutes.
Add the beef stock and leave to simmer for ar least 1 1/2 hour, stirring it from time to time.
Serve with boiled potatoes, pasta or knödel.