Pão De Queijo (Brazilian Cheese Puffs)
PaulaG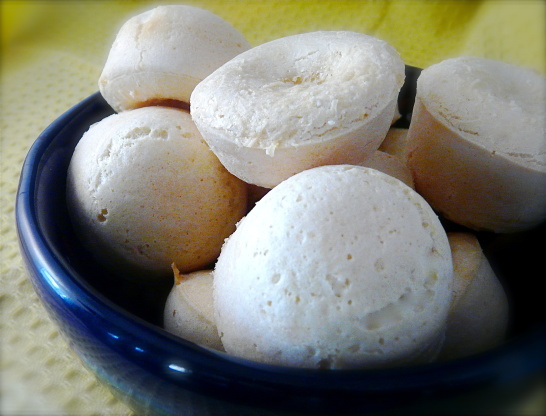 This cheese bread is a very popular breakfast item and also a snack in Brazil. You can find them in coffee shops, bakeries and restaurants. This recipe is amazing because there is no mess, you just blender all ingredients and then pour in a mini-muffin tray. Besides the delicious flavor, this bread is gluten free, what means that more people can enjoy it! I took this recipe at Rainhas do Lar blog (www.rainhasdolar.com).

I don't mean to be rude, but the real "pão de queijo" comes from the State of Minas Gerais (Brazil) and they use only Queijo de Minas, a characteristic cheese from that state, that is very mild, nothing like Parmesan cheese. My god-mother was born and raised in a farm in a small town of Minas Gerais, and I never ate pão de queijo in her home made with any other cheese. The taste is so different you might not recognize it.
Preheat oven to 350°F.
Grease (or spray) the bottoms of 24 (or 48) mini-muffin cups.
Blend milk, oil and eggs, then add tapioca starch and finally, cheese. The result must be something very liquid.
Pour the mixture in the muffins cups, filling about 2/3 of each one.
Sprinkle with Parmesan cheese.
Bake at 350°F until done or golden brow, about 18 minutes. They should double the size (most of that is air inside the bread).
Serve warm.
Tip: if you don't worry with calories, you can serve with cream-cheese and butter. We can even add small pieces of bacon before bake.
Note: if you don't have Parmesan, you can use any other hard cheese, like asiago or provolone.