P.f. Chang's Hot and Sour Soup
t jonesy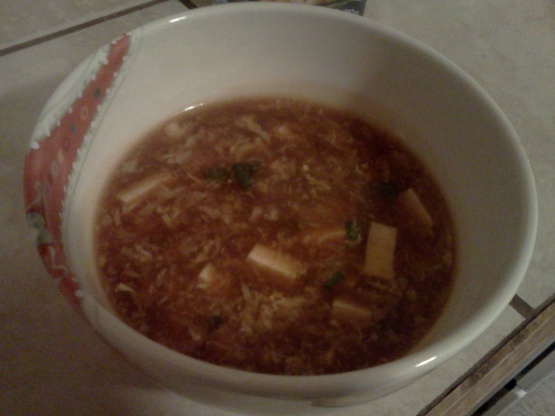 This recipe in no way should be credited to me. I found it off the internet years ago, and noticed this exact recipe wasn't on RecipeZaar yet... so here it is. =) This is the closest tasting recipe I've found to the Hot and Sour Soup that is served at P.F. Chang's. If you love that restaurant as much as I do, give this a shot. You won't be disappointed! (This approximately yields the "bowl" size from the restaurant.)

I too used a little less soy sauce and added scallions. I LOVE hot and soup soup and cannot believe that this is the first time I am making it! This really is a great recipe. I couldn't find wood ear mushrooms so I used Shiitake and I really enjoyed them. Thank you very much for posting this recipe!
Cook chicken strips till done. Set aside.
Bring stock to boil. Add soy sauce, white pepper, bamboo, mushrooms and chicken. Stir. Let cook for 3 minutes.
While cooking, in separate bowl combine cornstarch and water to make slurry. Add slurry a little at a time and stir until thick (all slurry may not be necessary, so add as much as necessary for desired thickness - I used about 3/4 of slurry).
Add eggs while stirring and cook for 30 seconds or until eggs are done.
Turn off heat. Add vinegar and tofu, give it a quick stir. Spoon into bowls and enjoy!