Oysters With Pine Nuts and Bacon
Peter J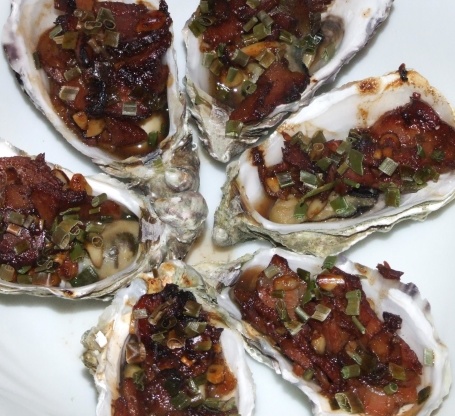 A twist on the classic Oysters Kilpatrick.

Mmmm! I really liked the idea of cooking the bacon and sauce in a saucepan before adding to the oysters because it blended the flavours well and meant the oysters weren't overcooked just needed a gentle heating through. I used about double the amount of Worcestershire and gave it a few minutes of gentle heat after adding to really let it soak into the bacon and nuts but only because I'm a big fan of Worcestershire with oysters and it was just wonderful! Only other change I made was to use dried chives instead of fresh, but only because I didn't have fresh chives but fresh would be even better.
Preheat oven to 180°C.
Cook bacon in a small heavy-based pan over medium heat until browned.
Add pine nuts and sauce, stir until well combined. Remove from heat.
Spoon mixture evenly onto each oyster. Sprinkle with chives.
Bake 5-10 minutes or until oysters are heated through. Do not overcook.
Serve immediately.