Peter J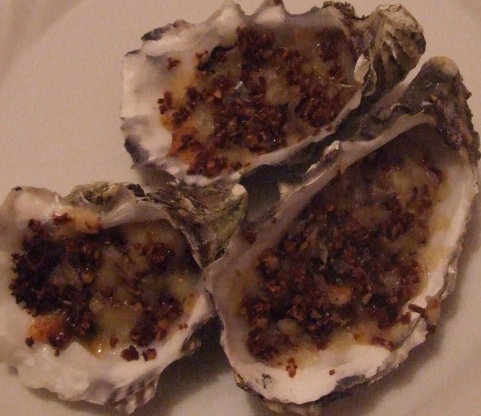 Bush tomato or Akudjura are plants native to the more arid parts of Australia. They have been used as food sources by Central Australian Aboriginal people for many thousands of years. These oysters would make a great appy for any party! Recipezaar wouldn't recognize akudjura so I had to list it as bush tomatoes BE WARNED that you cannot subsitute regular tomatoes for the same result.

Outstanding, when you think you've tried just about every way to enjoy fresh oysters something like this comes along! I only had dried whole bush tomatoes (also called Dessert Raisin or botanical name Solanum centrale) so chopped them to a very fine consistently like ground pepper to make the Akudjura.
Mix the akudjura with the grated cheddar cheese
Top each freshly shucked oyster with two teaspoonfuls of the Outback mixture.
Sprinkle with a little salt.
Heat under broiler to melt the cheese and serve.