Don't let the list of ingredients intimidate you - this actually goes together very quickly and makes a perfect last minute hearty and satisfying dinner.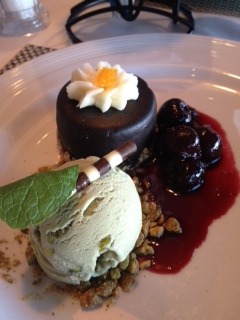 Top Review by Sueski
Way to go, Sherri!! Great recipe, and so easy to make. Would have been good the way you submitted, but instead of bacon, I used some leftover ham (from Easter), [cubed]; and 2 medium potatoes [cubed]. Then garnished with 3 sliced scallions. Yummy! My husband loved it, too.
Sauté diced bacon in a non-stick soup pot over low heat until rendered.
Add butter and heat until melted.
Add onions, celery and garlic and continue to cook over low heat, stirring occasionally, until translucent, taking care not to let them brown.
Add salt and pepper to taste, pinch of cayenne, thyme and Wondra or other fine white flour, whisking steadily to make a roux.
Cook, whisking steadily, for several minutes.
Slowly whisk in clam juice, whisking until smooth, then sherry, whisking until smooth.
Whisk in cream, whisking until smooth, then whisk in evaporated milk, whisking until smooth.
Raise heat slightly, stir while bringing just until it starts to boil, then lower heat and whisk until slightly thickened, about 5 minutes.
Stir in oysters with their liquor, several dashes of Worcestershire sauce and the chopped parsley.
Continue to heat, stirring occasionally, until oysters curl at the edges indicating they are heated through.