Ms B.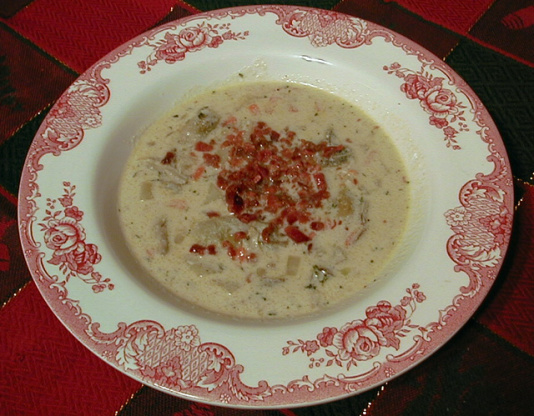 Recipe posted by request. Original recipe from Williams-Sonoma.
4

slices bacon, cooked to just crisp and crumbled drain off fat
1⁄4 cup unsalted butter

1

potato, peeled and cut into 1/4 inch dice

1

carrot, cut into 1/4 inch dice

1

stalk celery, cut into 1/4 inch dice

1

small onion, finely chopped

3

cups shucked oysters, in their liquor

2

cups milk

2

cups light cream

1

teaspoon finely chopped thyme
1⁄2-1 teaspoon Tabasco sauce
salt and pepper

2

tablespoons chopped chives
In a large saucepan melt butter over medium-low heat.
Add the potato, carrot, celery and onion.
Saute for 3 minutes.
Pour the oysters through a fine mesh strainer into the pan, then add the milk, cream and thyme.
Bring milk and vegetable mixture to a boil, reducing heat to a simmer.
Cook, uncovered for 10 minutes, stirring often.
Add the oysters and cook until their edges curl, about 3 minutes.
Season to taste with hot pepper sauce, salt and pepper.
Ladle into bowls and garnish with chives and crumbled bacon.