Overnite Fruity French Toast
Rita1652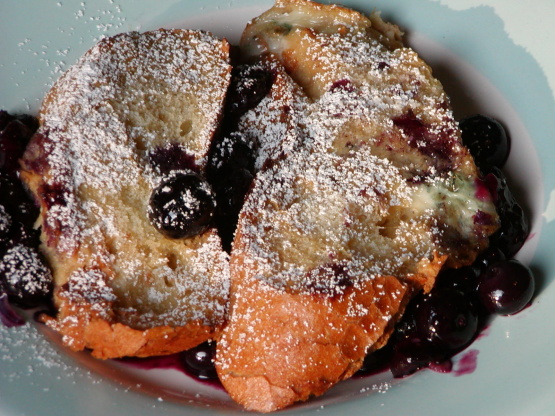 I'm an early riser (most days) so I love to wake everyone with yummy smells coming from the kitchen. This is no exception. My DS and DBF like this with blueberries, DD#3 and I prefer cherries. Combinations are endless, think I will try a peach/blueberry combo or strawberries next! Prep time does not include overnite chilling.

I cut the recipe down to 2 ounces of bread, used 2 eggs,a splash of milk,and used 1 pint of fresh blueberries. The blueberries were very sweet so the sugar I just barely sprinkled it on. I baked it for 30 minutes.I did use a very small amount of baking powder but I don`t think it`s necessary. I`ve made french toast oven style before and never had to use it.I really enjoyed this. French toast is my all time favorite breakfast.Thanks Laurie for posting this.
8

ounces French bread, loaf

4

eggs
1⁄2 cup half-and-half or 1⁄2 cup milk

1

teaspoon vanilla
1⁄4 teaspoon baking powder

4

cups frozen fruit, no sugar added (or use any fresh fruits ie blueberries or strawberries and adjust sugar to fruit ratio)
1⁄2 cup sugar

1

teaspoon cinnamon

2

tablespoons melted butter
Slice bread diagonally 3/4 inch thick.
Place in 10x15 pan.
In bowl, beat eggs, half and half, baking powder and vanilla.
Pour over bread slowly, turning to coat both sides.
Cover and refrigerate overnite.
In morning, toss together fruit, sugar and cinnamon.
Place in greased 13x9 baking dish.
Carefully place bread on top of fruit, wedging together if necessary.
Brush top of bread with melted butter.
Bake in preheated 350 degree oven, 20-25 minuted until golden and fruit is bubbling around the sides.
Remove from oven and sift powdered sugar over the top if desired.
Let stand 5 minutes before serving.