Overnight Pumpkin Pie Steel Cut Oats
gailanng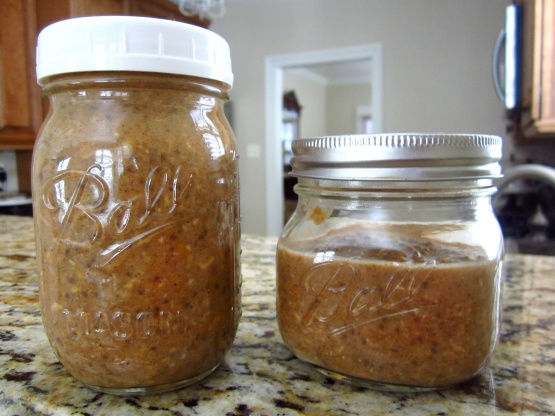 Who doesn't love pumpkin pie for breakfast? I love steel cut oats, but as a teacher and trainer, I don't have time to cook them in the morning. I did a lot of experimenting and came up with the following recipe for overnight oats in the fridge. Before I leave for work, I grab my jar of oats, put it in my bag, and head for the gym. I heat it up as soon as I hit work and I've got pumpkin pie for breakfast.
I make up five of these on the weekend by putting oats, flax seeds, and spice into pint canning jars and putting the lids on them. They sit in the cupboard.
Every night I heat up (or use a hot water dispenser) half cup water until about tea water temperature. Doesn't have to be boiling. Alternatively, you can just add water, pumpkin, and maple syrup and put into microwave for 2 minutes.
Put lids on jar and put into fridge.
In the morning, add about 1 tbs half and half or a little milk or almond milk and head for 90 seconds. Stir, eat. One of the benefits of the soaking is that the flax actually puffs up and becomes digestible so you don't need to grind it.
Other add ins or options: coconut, raisins or other dried fruit, nuts, hemp hearts, chia seeds, (I actually always do hemp hearts or chia but neither were in the database), peanut butter and cocoa, fresh berries, pears or apples with apple pie spice, etc.