PaulaG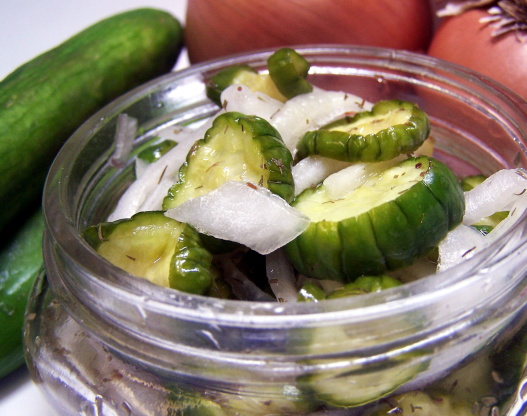 doesn't get much easier than this.
These pickles are so good, I cut the recipe size dowm to make 1 pint, using splenda instead of sugar. I used 1/3 cup splenda, they are a little on the tart side which we really like, for a sweeter pickle I would use 1/2 to 2/3 cup of splenda. I also used celery seed instead of celery salt. I will be making these often, espically when we have lots of cuccumbers in the garden. Thank you Chia, for another delicious recipe.
mix first 4 ingredients and the dill. add cucumbers and onions, and refrigerate stirring every few hours.
ready to eat the next day, keeps for up to 1 month refrigerated.