Junebug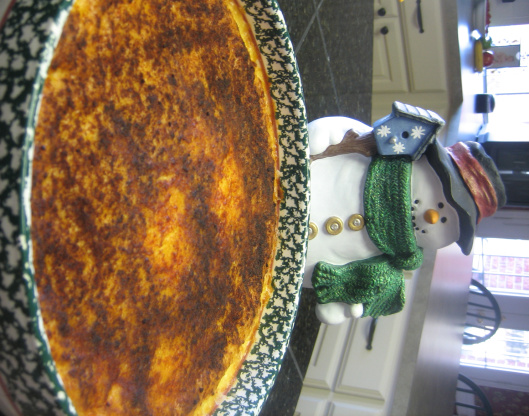 Another Southern dish, but this is a make-ahead for a crowd. Perfect for your brunch or breakfast.

This recipe was easy and fast to assemble and pop in the oven the next morning. Let's just say that when I saw my husband, who doesn't like grits,in the kitchen eating them out of the pan I knew I had a winner! I might add that my daughter, who also doesn't like grits loved them also. I reheated it successfully in the microwave. Miss Annie, thanks you for another delicious recipe that my family will continue enjoying in the future!
After cooking grits, stir the grits into the other ingredients.
Stir this mixture into the beaten eggs.
Add the cheese.
Pour into a 2 1/2 quart baking dish.
Sprinkle the top heavily with paprika.
Cover and refrigerate overnight.
Remove from refrigerator 15 minutes before baking.
Bake, uncovered, at 350ºF for 1 1/2 hours.