Overnight Eggnog Streusel Coffee Cake
ladypit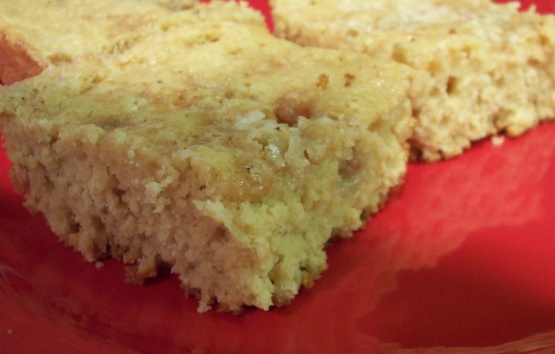 A Gold Medal Flour Recipe. If you don't want to wait overnight to bake; adjust time. See note below.

Great flavor. Followed directions for baking right away. Came out of the oven around midnight and enjoyed a bit warm, let cool and covered. By morning it was quite dense, rather tough. Didn't overmix the batter. Used Horizon lowfat organic eggnog and 7 oz. of 2% Fage Greek yogurt instead of sour cream cause that's all I had it the fridge. Maybe these lower fat products affected the final outcome? Or maybe this is one of those things that is best eaten right away? Thanks for sharing the recipe!
Grease bottom only of rectangular pan, 13x9x2inches, with shortening.
Make streusel topping; set aside.
Beat sugar and butter in large bowl with electric mixer on medium speed.
Beat in eggnog, sour cream, rum extract and eggs until blended.
Stir in flour, baking powder, baking soda and salt.
Spread in pan.
Sprinkle streusel topping over batter.
Cover and refrigerate atleast 8 hours.
Heat oven to 350*.
Uncover; bake 35-40 minutes or until toothpick inserted in center comes out clean.
Cool 20 minutes.
Make eggnog glaze; drizzle over coffee cake.
For serving, cut into 5 rows by 3 rows.
Note**To cook immediately reduce bake time to 30-35 minutes.