Overnight Cinnamon Waffles
ladypit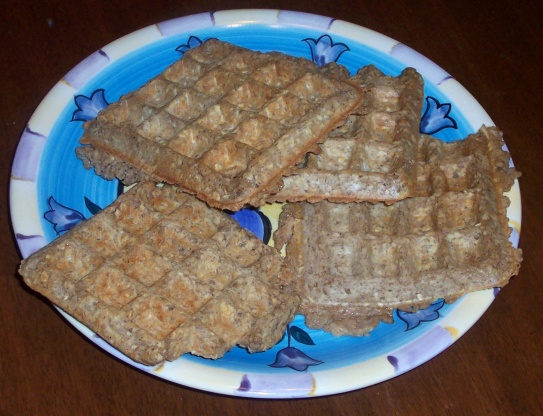 I found this recipe in my Oat Cuisine cookbook. I accidently mixed up two recipes and the end result was a spicer waffle. These waffles freeze well and can be reheated in a toaster oven. These are also good topped with sweetened fresh strawberries and then sprinkled lightly with powdered sugar.

These are my new PERFECT waffle recipie. Granted they are nothing like light and fluffy texture you get with a whipped egg white recipie - BUT I love the texture of oatmeal and I love the crunchy texture. Most of mine were eaten out of the freezer and the reheated perfectly in the toaster. Prep couldn't have been easier done the night before. Try it.
The night before: Combine oats, flour, baking powder, and spices.
Mix well.
Add remaining ingredients and mix until moistened.
Cover and chill overnight.
In the morning: Spray waffle iron with a non-stick cooking spray and preheat according to manufacturer's directions.
Stir batter (it will be thick).
Spoon batter onto center of hot waffle iron and bake 4 to 6 minutes.
(I use a Belgian Waffle Maker.) Spray the waffle iron before making each waffle.
Serve with fresh fruit and vanilla yogurt or maple syrup.