Overnight Blueberry French Toast
DeeDee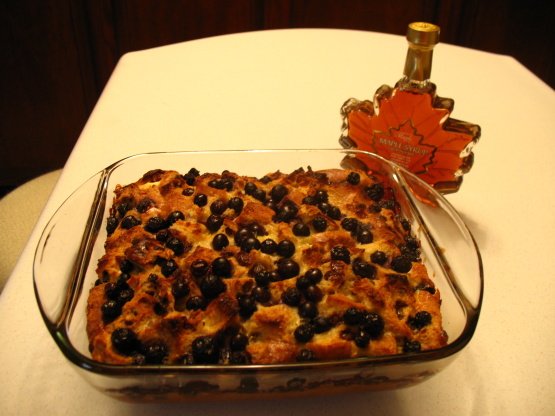 I haven't tried this personally, but will real soon as I love blueberries. A friend gave me this recipe after having it at a brunch party; she was just raving about it.

I love the blueberries and cream cheese, very good. If you had overnight guess and served them this in the morning they would never leave. Thank you for sharing this it's another keeper. Made this for our Worldwide Recipezaar Day Feb 10, 2002.
Butter a 13x9-inch glass baking pan generously.
Tear bread into one-inch cubes; place half into prepared pan.
Evenly distribute cream cheese pieces over bread; cover with blueberries.
Place remaining bread cubes on top.
In a large bowl, beat together eggs, milk, syrup and cinnamon; pour over bread cubes.
Cover with foil and refrigerate overnight.
In the morning, preheat oven to 350F degrees.
Remove casserole dish from fridge and bake, covered, for 30 minutes.
Remove foil and bake for an additional 30 minutes or until lightly browned on top and centre is set.
Cut into squares and serve with maple syrup.