Over-The-Top Zucchini Bread
diner524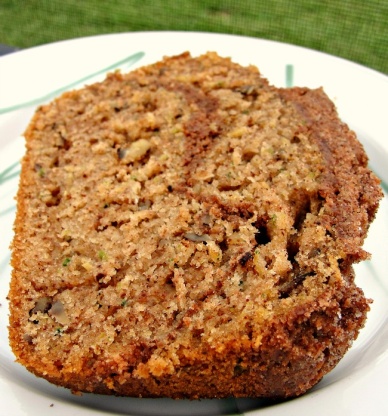 I had happened up on a Cinnamon quick bread...but had a counter full of zucchini.
OMG!!! My house smelled so delicious while these were baking!!! I took my first bite, which was from the bottom of the slice and it really wasn't sweet at all and didn't taste very good(during the baking, the filling rose quite a bit on the one side). Once I got some of the filling it was much better. I would definitely make this again, but change things up by making 1/2 of the filling amount(it seemed to be out of proportion compared to the batter) and adding that other half of the sugar into the regular batter. Thanks for sharing the recipe. Made for "Name That Ingredient" tag game.
Preheat oven to 350 degrees.
Grease two loaf pans.
Cream together the zucchini, eggs, oil, milk, cream cheese and brown sugar. Add baking powder, baking soda, salt, 1 T cinnamon and vanilla. Mix well. Add 3 1/2 cups flour and nuts, stir to combine.
In a separate bowl combine 4 T cinnamon, white sugar and 1 cup flour. Cut in butter to create filling and topping.
Pour one quarter of batter into loaf pan, sprinkle with 1/4 of cinnamon mixture. Pour one quarter of batter into loaf pan and sprinkle top with 1/4 of cinnamon mixture. Repeat to fill second loaf pan.
Cook at 350 degrees for 55 minutes.