Bergy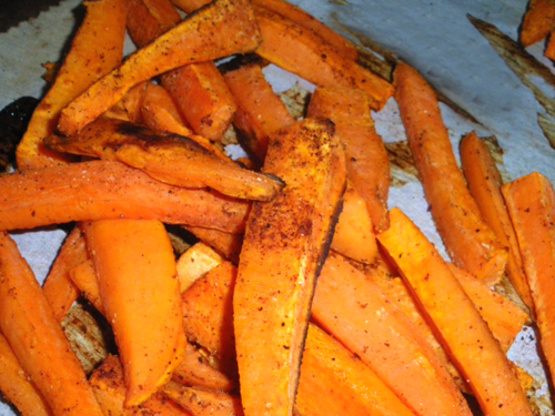 My grandson who is 4 loves these and so does everyone else.. If you stir a little chipotle paste into some mayonaise you get a nice spicy dipping sauce, although GS prefers them plain. We have had a of trouble getting variety into his diet and this is one of my successes. You can experiment with the spice ratios depending on your taste.

Top Review by Bergy
I didn't use any oil - baked them on my pizza stone on parchment paper. After peeling and cutting up the potato I soaked them in water - When I was ready to put them in the oven I dried them off between 2 paper towels and sprinkled on the spices. Lovely blend of spices. We enjoyed this recipe very much
Halve the potatoes and cut like french fries.
Place in ziploc bag with spices and 1 tbsp hot water.
Seal and shake until all coated.
Place on a cookie sheet treated with cooking spray or covered with a silpat ,in a single layer.
Bake at 400F for 20 -30 min until tender and golden and somewhat crispy.
Turn every 10 minute.